Skype G view Tv live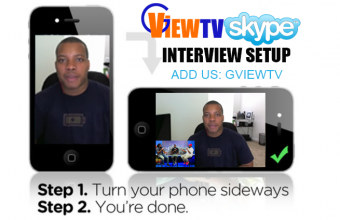 Setup

Make sure you have the latest version of Skype. For Macs, it's Skype->Check for Update.

You do not need a professional audio/video setup to be on G VIEW TV LIVE (of course if you do, congratulations – it should work even better). But if you don't, you'll need:

headset or a Bluetooth headset.

Please do not use the built-in Phone or laptop microphone if at all possible. This is only for use if we have exhausted all other options. If the laptop mic must be used, then find some iPhone/iPod headphones and plug them in so you hear the audio through the headphones. This will prevent echo coming back into the G VIEW TV studio mix.

Video: you have several options

Built-in camera: If you have a new computer, chances are it has a built-in webcam. That should be sufficient. Smart Phone Camera should be on landscape

External COMPUTER webcam: This is OK, too.

Computer Connection. Ethernet connection rather than Wi-Fi, please. If at all possible please connect directly to the ethernet rather than using Wi-Fi as you will have a much greater likelihood of looking and sounding good. Also, if you have to reconnect multiple times it will disrupt the live show and increase the amount of editing needed.

Send out this link for your fans to watch you on G VIEW TV http://www.biggonline.com/mobile

Consider your lighting Please have a stronger light in your face that you do at your back, instead of being backlit. If you have a pretty view behind you'd like to show off in the shot, make sure you have at least two strong lights pointing right at your face. Yes, it's bright, but it can make a beautiful shot.

Frame the image well. Usually, the best way is to have your head almost touching the top of the frame, and your head is in the top three-fifths of the frame and your chest the bottom two-fifths (enough to put your name in the "lower third" of the screen). And please, put the webcam just at the top of the monitor you are going to be using, so you're pointing right at it as you're on your computer. No sideways views, please.

Enable video automatically. Don't wait for us to ask for you to send video. The conversation will begin right away – make sure you're sending video.

Advanced Privacy Settings

For the purposes of your call, please go into "Privacy" settings (you may need to click on "Advanced") and allow calls, chats, and video from anyone, and show you're online. After the show, you can revert these settings to be whatever you like.

Producers will often call and do a sound check before broadcast to make sure the connection is solid. Feel free to ask any questions or concerns you may have at this time. But, remember: you're an expert and you're going to do great.

Reduce background noise: Turn the television off. Not only will it create background noise, but the short delay can distract interviewees. Additionally, be aware of other outside sounds that could interfere. Closing your office door is always a good idea.